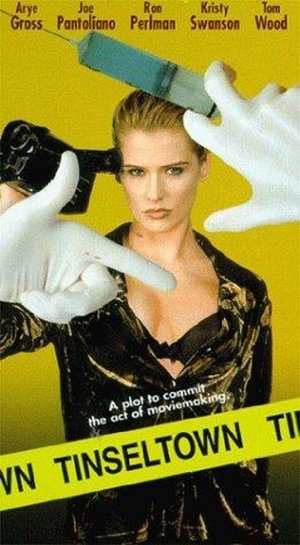 Tinseltown
In Hollywood it's all about who you know, and the only person two friends know is a serial killer.
Views: 5
Genre: Comedy, Crime, Drama, Thriller
Director: Tony Spiridakis
Actors: Arye Gross, David Dukes, Joe Pantoliano, John Considine, Kristy Swanson, Mark Neal, Nichole Pelerine, Nicole Hansen, Rebecca Gray, Ron Perlman, Tom Wood
Class Act
Class Act
Duncan is a genius straight A student, Blade is juvenile delinquent. But because of a mix up with their school records, everyone thinks each is the other one. Now, Duncan…
These Foolish Things
Born Romantic
Born Romantic
In modern-day London, three men (Craig Ferguson, Jimi Mistry and David Morrissey) and three women (Olivia Williams, Jane Horrocks and Catherine McCormack) fall in and out of love and back…
Under the Cherry Moon
Superbad
Superbad
Two co-dependent high school seniors are forced to deal with separation anxiety after their plan to stage a booze-soaked party goes awry.
Robin Hood: Men in Tights
Slave Girls from Beyond Infinity
Slave Girls from Beyond Infinity
Lovely and resourceful Daria and Tisa escape a space gulag only to crash land on a nearby world where a guy in tight pants named Zed is playing The Most…
Cocked
Cocked
The Paxsons are a broken family working together – and against each other – in the most quintessentially American business, the business of guns.
The Magic of the Golden Bear: Goldy III
Royal Family Christmas
Royal Family Christmas
In the sequel to "A Royal Family Holiday", the children Phillip "Flip" Royal (Romeo Miller), a good-looking spiritual guru; Austin Royal (Eric Myrick III, At Sunrise), a Washington, D.C. community…
Happiest Season
Happiest Season
A young woman's plans to propose to her girlfriend while at her family's annual holiday party are upended when she discovers her partner hasn't yet come out to her conservative…
Employee of the Month
Employee of the Month
When he hears that the new female employee digs ambitious men who are the store employee of the month, a slacker gets his act together but finds himself in competition…