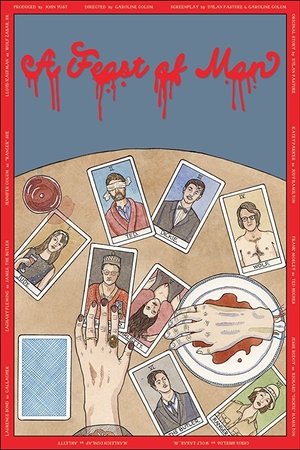 A Feast of Man
Five socialites are put to the test when their recently-deceased friend asks them to commit the ultimate taboo in order to inherit his fortune.
Views: 12
Genre: Comedy, Drama, Thriller
Director: Caroline Golum
Actors: Chris Shields, Frank Mosley, Jennifer Golum, Jesse Rudoy, Katey Parker, Laurence Bond, Lloyd Kaufman, Marleigh Dunlap, Zach Fleming
Duration: 82
Release: 2017
Yoru wa mijikashi aruke yo otome
DisOrientation
DisOrientation
After a string of incompatible dorm mates, Finn – an unapologetic, collegiate underachiever and extreme party boy – hopes that a new year is going to bring some better luck….
The Mend
The Mend
Mat and Alan, estranged brothers, reunite just before Alan leaves for a vacation with his girlfriend. When he returns sooner than expected without his girlfriend, Alan finds Mat and his…
Banana Split
Banana Split
Over the course of a summer, two teenage girls develop the perfect kindred spirit friendship, with one big problem: one of them is dating the other's ex.
Ghost Team
Ghost Team
A paranormal-obsessed man mounts his own investigation into the beyond with his depressed best friend, misfit nephew, a cable access medium and an overeager security guard.
Pornopung
Pornopung
The story of Karl, Christian and Leo will forever change the way you view the relationship between men and women. In a world were women have the power and all…
Zombies Vs. Strippers
Zombies Vs. Strippers
The Tough Titty is about to go under after losing a lot of money and gaining no customers. After they bring together their staff for the night to declare bankruptcy…
Jonny's Sweet Revenge
Jonny's Sweet Revenge
Rick and Reni came to California in search of a new lease on life. Unfortunately, all they found was each other… In a last ditch effort to save their struggling…
Kids in America
Kids in America
Inspired by real events, this ribald comedy pits an unlikely gang of students against their principal after she bars safe-sex activities on campus. Protesting Principal Weller's muzzling of free speech,…
Chris Hardwick: Mandroid
Chris Hardwick: Mandroid
Hipsters beware: there is no irony in Hardwick's affinity for Captain Picard, Comic-Con and the Atari 2600. Filmed at Skirball Center for Performing Arts in New York City, "Chris Hardwick:…
Puss in Boots: The Three Diablos
Puss in Boots: The Three Diablos
Puss in Boots is on a mission to recover the Princess' stolen ruby from the notorious French thief, Whisperer. Reluctantly accompanied by three little kittens, Three Diablos, Puss must tame…
Sucker
Sucker
When Chinese-Australian teenager Lawrence cheats at and fails his high-school exams, destroying his dreams of a medical degree, he's banished to the country for the summer. There, he meets wily…